This has been in my mind for quite a while, so I thought I'd write it down. I don't know if it's possible right to install extra keyboard through the Marketplace at this moment, but this keyboard concept would be great as an app available there, altough maybe we don't want it as a default keyboard.
This is also not an original idea of mine: I used to have this kind of keyboard on my Nokia 5800 (Symbian S60) but I haven't been able to find one like this for Android so far, so I think it'd be a plus to have it on Firefox OS.
It's not easy to fit a good keyboard on a small smartphone screen, especially in portrait mode, and Firefox OS 1.3 comes with huge improvements on this side. If you're a non-English speaker, however, writing a sentence can still be a painful experience: if you need to type a number you have to switch keyboard to the numbers and symbols view and then back and if you need some accent on the character you have to keep tapping the key, wait for the popup to come up and choose your accented char from a variety of choices. All this makes you loose quite a bit of time while tiping, but at the same time you can't add other keys to the keyboard or they'd be too small to tap.
Here's where swipe comes to rescue, to multiply the uses of a single key. The image below shows how keys would show in the multifunction keyboard I have in mind. For sake of time saving, I've only modified the Q, W and E keys.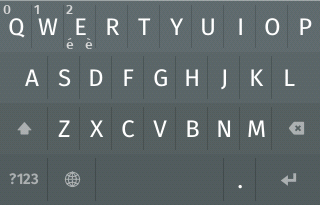 As you can see, on the corners of each key there are more chars that you can type fast with the key. Basically, the idea is that if you just tap the key you write the main character of the key, while if you tap and swipe (north, south, east or west) you type one of the side-chars: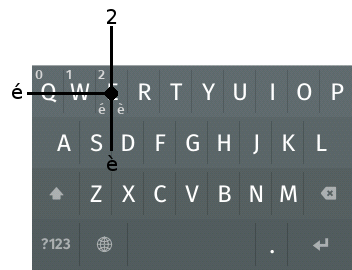 With this technique, you can reach easily and in a much faster way numbers and accented chars that are most used in your language. For example, if you're Spanish you may be interested in having the char ñ on the N key or if you're French the char ç on the C key. Everyone would be interested in having the comma on the full stop key.
The keyboard I had on my old Nokia also added other symbols to the free keys, but that may be going too far, making the keyboard hard to read.
Unfortunately I really can't code the mockup I've just shown you, but if you can and if you're interested in this idea we can work together to make it happen.
If you can't or don't want to help, I'd still like to read your comment on this.